Glamping (in a pandemic)
Glamping has been on my "gosh I must do that one day" list for what seems like forever – well perhaps not forever, as I recall I had at least one kidlet when I first came across photos of (what was at that stage) the single glamping tent at Lake Wainamu.
Fast forward 10 or so years and there are now 3 glamping sites on the Wheeler Family Farm which is less than 20 minutes away from home. I guess is the main reason I've never found the time to actually make a booking – it seems so random to holiday in a place that you've been at least a 1000 times!
However, when this years annual family holiday rolled around we were right slab dab in the middle of yet another coronavirus outbreak, so it made sense to stick close to home and the bonus was that we'd have the camp all to ourselves – safely sheltered from all other humans (except Jim).*
It's a win/win – right?
We managed to nab ourselves two nights during the last week of January at Ibbys Camp, which incidentally is the very tent I'd seen all those many moons ago on social media, which means it sits on the land like it's always been there.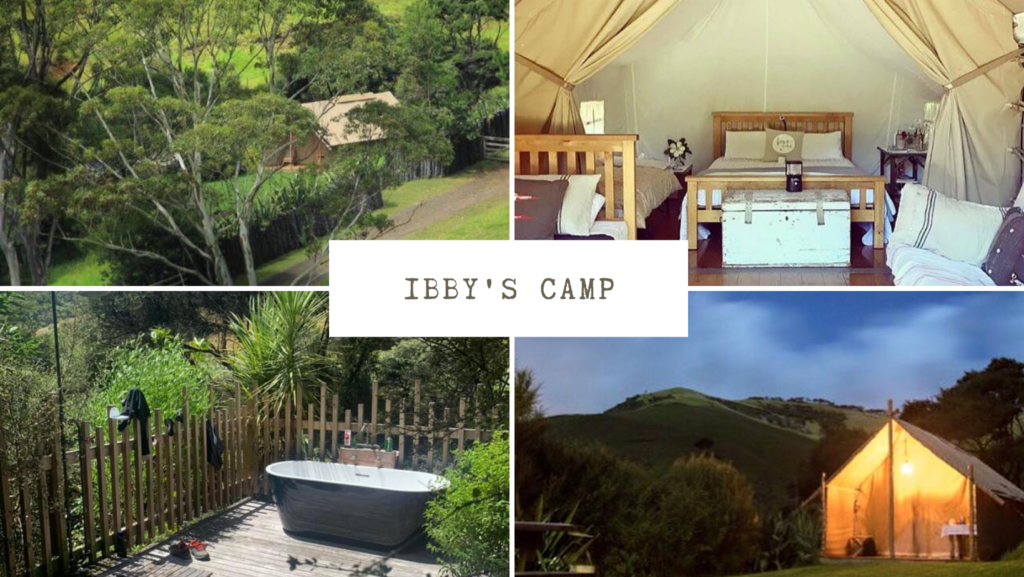 Our host Jim* met us at the Bethells Lake Car park and we drove behind him to the camp site, he then showed us the lay of the land and left us to explore.
The girls set off for a walk around the lake and the boys decided to "relax" back at camp, which probably involved James telling Elias a million times that "no, you can not light the fire yet". We did actually find then in the lake as we finished up the loop, so we also jumped in to cool off before heading back for dinner – which much to Elias' delight meant he could light the fire ..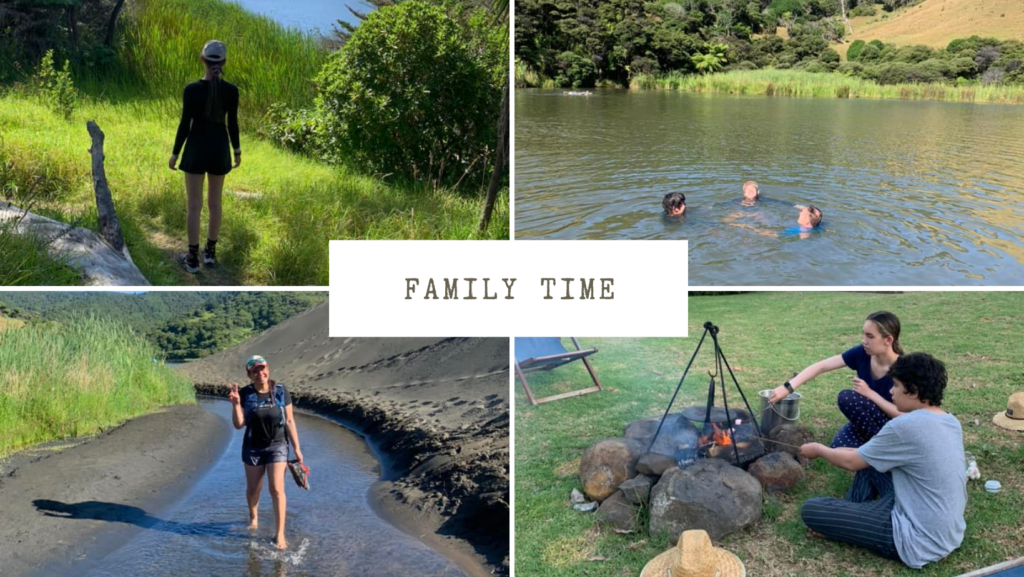 Although we'd all nabbed a bed on our arrival, just as we were settling in for our first night's sleep I heard Isabelle, whimpering, because there was a spider by her bed – you see glamping tents aren't like our tiny adventure tent with the mesh that keeps all the bugs out lol.
This made glamping not as glamorous as she'd expected. Which in turn (because I said she could come and sleep in my bed) made glamping not as glamorous for James as he was now out "in the cold" – so after "much discussion" and some rearranging, we ALL ended up in the master section of the tent, which did actually have a lining that helped keep the bugs out.
It did nothing at stopping the skink decided to have a kip inside my bag though ..
I'm pretty sure half of West Auckland heard me scream!
On a positive note, the bread they provide for breakfast was TO DIE FOR and the outdoor bathroom was amazing – the bath took forever to fill, but it was completely worth waiting for and we all loved the outdoor fire (especially Elias).
All in all – I'm glad we finally got to check out glamping. Issy and I however, think we will stick to our tiny (but bug free) tent from now on.
Till next time